Rare and first edition books make a wonderful and unique gift, particularly for the collector or book lover in your life. If you are not sure of where to start, you may want to consider your recipient's favorite author or genre. Do they have a favorite hobby? Whether its golf, cooking, travel, music, or bird-watching, we can recommend or help find the perfect collectible book. If you still don't see exactly what you are looking for, you can purchase a gift card for any amount and let your recipient have the pleasure of browsing our shelves or website. You can also encourage your recipient to create a wishlist on our site to help you narrow it down from there.
Here, we've put together a little list of gift recommendations for the man or woman in your life. You can also view graduation and celebration or holiday recommendations on our website.
"ALWAYS REMEMBER THAT HOWEVER GOOD YOU MAY BE, THE GAME IS YOUR MASTER": FIRST EDITION OF TAYLOR ON GOLF
John Henry "J.H." Taylor was an English professional golfer and one of the pioneers of the modern game of golf. Considered to be one of the best golfers of all time, he was also a significant golf course architect, the first chairman of the British Professional Golfers Association, and winner of five Open Championships.
$750
"WHAT DOES THE BRAIN MATTER COMPARED WITH THE HEART?": FIRST AMERICAN EDITION OF VIRGINIA WOOLF'S MRS DALLOWAY; IN THE RARE ORIGINAL DUST JACKET
In Mrs. Dalloway Woolf breaks decisively with the fictional conventions of the realistic novel. The technique is almost orchestral, introducing and then interweaving the strains of the different characters' thoughts, and finally engineering, through a subtle sequence of readjustments and realignments, a new and delicate harmony between them at the close of the book. Mrs. Dalloway thus initiated Woolf's sequence of radical experiments with literary form, embodying a striking combination of fluid sympathy and secret resistance. Through the novel's rapid transitions between apparently disconnected, but secretly related stories, Woolf was able to suggest the hazards of neatly pigeonholing human character according to social situation or gender" (Parker, 110-11). in 2005 it was included on Time's list of the 100 best English-language novels written since 1923. It was adapted to the 1997 film starring Vanessa Redgrave in the title role.
$5,500
"BUT MAN IS NOT MADE FOR DEFEAT," HE SAID. "A MAN CAN BE DESTROYED BUT NOT DEFEATED": FIRST EDITION OF ERNEST HEMINGWAY'S THE OLD MAN AND THE SEA
Upon its publication in 1952 by Charles Scribner's Sons, The Old Man and the Sea was awarded the Pulitzer Prize for Fiction the following year and was cited by the Nobel Committee as contributing to the awarding of the Nobel Prize in Literature to Hemingway in 1954. The novel reinvigorated Hemingway's literary reputation. It initiated a reexamination of his entire body of work. The novel was received with such alacrity, that it restored many readers' confidence in Hemingway's capability as an author. Indeed, the publisher even wrote on an early dust jacket, calling the novel a "new classic," and it was compared by many critics to such revered works as William Faulkner's "The Bear" and Herman Melville's Moby-Dick.
$2,200
"I'M YOURS FOR EVER–FOR EVER AND EVER": FIRST EDITION OF HENRY JAMES' THE PORTRAIT OF A LADY
The Portrait of a Lady was well received at its time of publication. James began with the simple idea of a young American woman confronting her destiny, and from this created the character of the protagonist, and a detailed plot. It presents, typically of James, a trans-Atlantic panorama, and an examination of the old affluent world of Europe and Britain colliding with the new harsher world of America. James examines the psychology of human consciousness and motivation. "The Portrait of a Lady is entirely successful in giving one the sense of having met somebody far too radiantly good for this world" (Rebecca West). It was adapted in 1996 by director Jane Campion, into film starring Nicole Kidman as Isabel, John Malkovich as Osmond, and Barbara Hershey as Madame Merle.
$975
"One of the most famous of all big-game hunting epics, this, with its larger than life sportsmen, was almost continuously in print until the 1930s. In British East Africa, Roosevelt hunted lion and plains game on the Kapiti Plains, while, in the Bondoni hill country, he collected rhinoceros and giraffe. On Juja Farm, his son Kermit faced leopard, while Teddy bagged rhino and hippopotamus. On the Kamiti River, buffalo were taken. Near the Sotik, additional rhino and lion were hunted, with elephant bagged near Mt. Kenia. On the Guaso Nyiro, giraffe and a variety of plains game were shot. Further adventures included hunting elephant near Lake Nyanza, rhino and plains game in the Lado, and eland on the Nile. Roosevelt's total bag was enormous even by the liberal standards of that era" (Czech, 138-39).
$650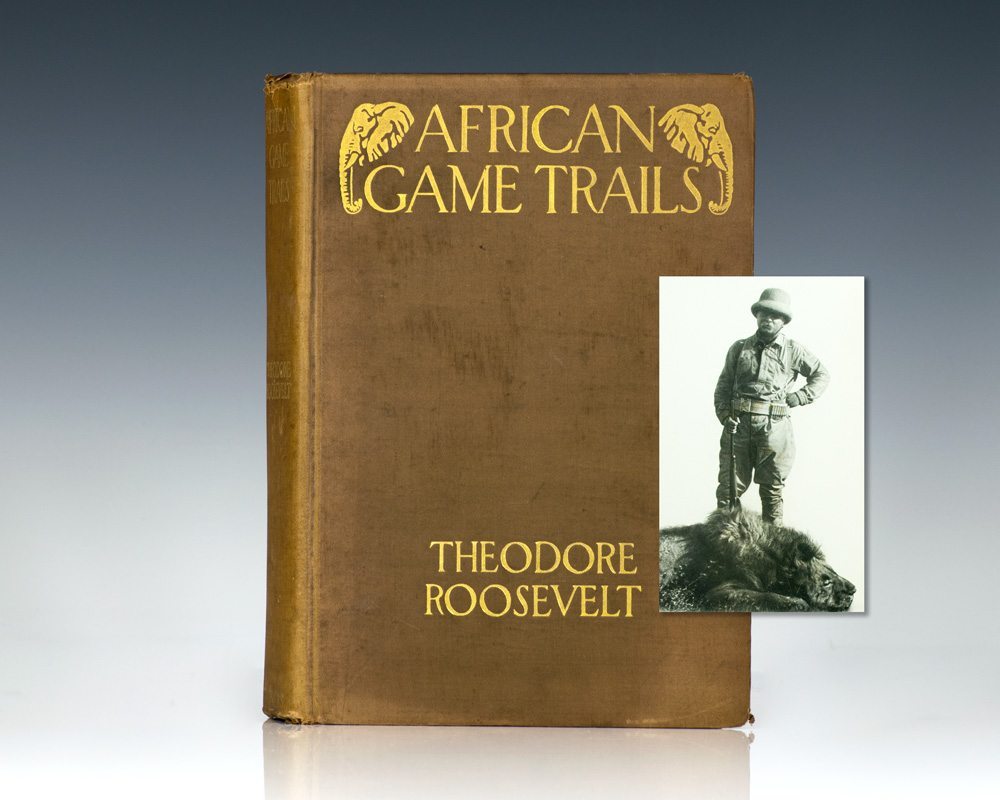 We hope you have been inspired by this list to find a perfect rare book for the special people in your life. Whether it is a holiday, special celebration, or corporate gift, we can assist you in our store, online or by phone. Just call us at 561.508.3479 to speak with us about your needs. We provide complimentary gift wrapping and a variety of shipping options to get your rare books to you in a timely manner. We also offer gift certificates and cards.