As most people know, the novel To Kill a Mockingbird is one of the best-loved classics of all time. It has been translated into more than forty languages and has sold more than forty million copies worldwide. In 1962 it was also made into the film starring Gregory Peck, which won three Academy Awards. Therefore, this post will not be dedicated to the plot or characters of the novel, but instead to the basic understanding of how to identify a first edition of this book.
First Edition Issue Points
To Kill a Mockingbird was published by J.B. Lippincott Co. of Philadelphia in 1960 and became an almost immediate bestseller, winning the 1961 Pulitzer Prize for Fiction.
Because Harper Lee had never published a book before, the publisher had only an estimated first printing run of 5,000 copies, many of which went to public libraries, where they put the usual library marks on them. Due to the fact that it was such a sensational hit, it was also well read, which means that finding a pristine first edition dust jacket of this book is extremely rare. This iconic cover of a tree in autumn designed by Shirley Smith was printed on a type of photographic paper, which unfortunately shows every nick and crease and often is found quite sun-faded to the spine, where it often gets the most light if it is sitting on someone's shelf.
The Rear Panel with a photo of Harper Lee taken by Truman Capote
A first edition dust jacket has a picture of Harper Lee on the back cover, which was taken by her good friend and author Truman Capote…and on the bottom right corner is Capote's name. Inside the front flap of the dust jacket the price of $3.95 should appear at the bottom of the flap. There should be no printing statements on the front flap.
There is a little debate regarding the first edition jacket as it appears to have been two states. One state has two reviews on the back flap – by Shirley Ann Grau and Phyllis McGinley. The other state dust jacket has a single Jonathan Daniels review and this is more common. There is no agreement among professionals regarding which state came first.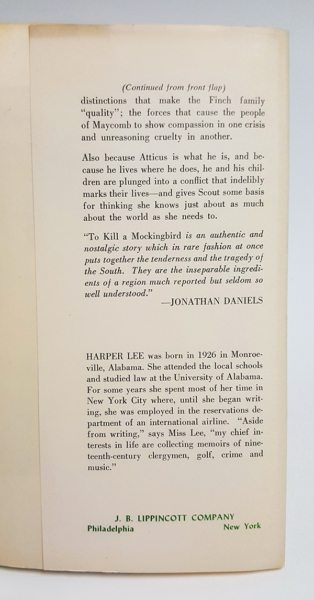 The First Edition vs. the Book Club Editions
The first edition of the book has brown boards with a green cloth spine and lettering in brown. The copyright page states "First Edition". Since To Kill a Mockingbird was such a success, it was actually issued by at least four book clubs in 1960. The Book-of-the-Month Club editions look extremely similar to the first edition, but they have an little mark on the back cover and the dust jacket states Book of the Month Club. It also does not have the Capote photograph of Lee on the back of the panel. There are other book club editions that are thinner, have a different cover or dust jacket design, so they are usually fairly easy to differentiate.
We hope this helps you in understanding how to correctly identify a first edition of this book. For more information on first edition identification, see our page on this subject by following this link. You can also discover more blog posts regarding first edition issue points on specific books as well.