The new movie Blade Runner 2049 is in theaters this week and we thought it would be a great time to write a post about the book that this movie and the original 1982 Blade Runner movie have been loosely based on, Do Androids Dream of Electric Sheep? and its author, Philip K. Dick.
The book was first published in 1968 by Doubleday Company in New York and it has become a cornerstone of science fiction. We won't go too much into the plot here because we encourage you to read the book for yourself, but its general plot involves a post-apocalyptic world where a bounty hunter named Rick Deckard must hunt down six highly developed rogue androids. At its core, however, the novel really explores the essential issues of the meaning and destiny of humanity. The New York Times said "It is one of Dick's most tantalizing explorations of the human capacity for empathy."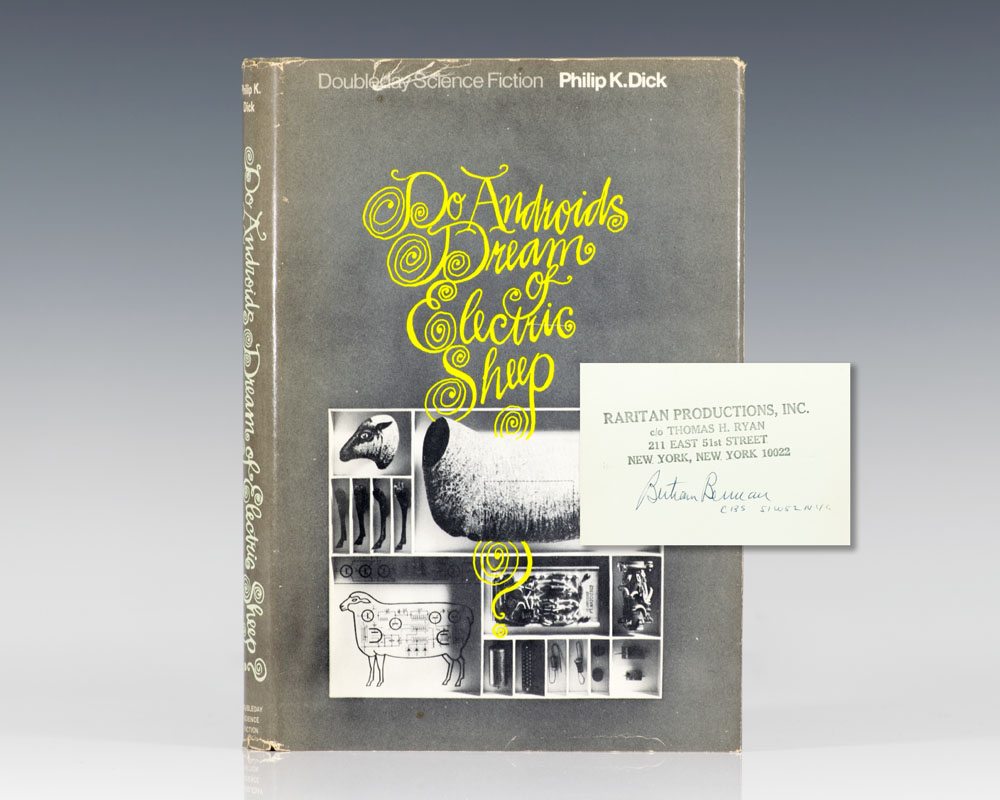 First Edition Issue Points
The issue points for the first edition include the first edition statement on the copyright page and there is also a gutter code of J5 on the bottom corner of the last page near the binding. The boards are solid grey with gold lettering. The original price was $3.95, which can be found on the front flap of the dust jacket.
The book we currently have in our collection is especially interesting, as it was Filmmaker Bertram Berman's copy, with his signature along with his address at CBS on front end-paper, directly beneath the rubber-stamped address of Raritan Productions, Inc. Berman was a program executive and producer with CBS, who in 1968 purchased the option of Do Androids Dream of Electric Sheep? Dick was clearly thrilled about the prospect of a film adaptation of one of his works and sent a lengthy letter to Berman full of ideas about how the book could be translated to film. Dick provided Berman with suggestions on everything from casting (Gregory Peck for Deckard; Dean Stockwell for Jack Isidore), tone, plotting…even down to the particular sound the weapons would make. And, of course, "There could be room for more sex." Berman's project failed to get off the ground, and his option expired, opening the way for other parties and, eventually, Ridley Scott, who directed the original Blade Runner starring Harrison Ford.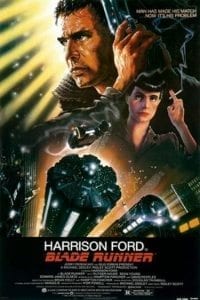 Philip K. Dick never actually got to see the completed movie, as he died from a stroke early in 1982. He was able to see previews of it however, and stated in a letter to the production company,
"The impact if Blade Runner is simply going to be overwhelming, both on the public and on creative people — and, I believe, on science fiction as a field… Nothing that we have done, individually, or collectively, matches Blade Runner. This is not escapism; it is super realism, so gritty and detailed and authentic and goddam convincing that, well, after the segment I found my normal present-day "reality" pallid by comparison…. My life and creative work are justified and completed by Blade Runner."
A little on the life and works of Philip K. Dick
Philip K. Dick was not always a commercial success, however. At the beginning of his writing career, he had a great deal of difficulty getting things published. He had attempted to write in mainstream fiction, but these works never went anywhere. His works of science fiction, however sold to magazines such as Planet Stories and The Magazine of Fantasy and Science Fiction. His first novel was Solar Lottery, published in 1955, but it was not a commercial success. He struggled financially in the 50's saying, "We couldn't even pay the late fees on a library book."
He finally broke through in 1962 with his first commercial success being The Man in the High Castle, which won the Nebula Award. The book below is a signed first edition that we have in our collection.
Most of Dick's works explore philosophical, metaphysical, theological, political, and social topics, with particular interest in altered states of consciousness, drug use, transcendent experiences, mental illness, and the nature of reality.  He wrote too many novels and short stories to discuss them all here, but there are many glimpses into his personal life through his works.
For example, A Scanner Darkly (1977) contains fictionalized depictions of a burglary that occurred in his home in 1971, as well as his time using amphetamines and living with addicts, and his experiences at a recovery program in Canada following a suicide attempt (portrayed in the novel as "New-Path"). In the novel, an undercover narcotics police detective begins to use the very substance is supposed to help fight, which leads him down a path of confusion, hallucinations, paranoia, and ultimately complete psychosis. Dick thought that this was best work, feeling that he "had finally written a true masterpiece, after 25 years of writing. It was made into the film by Richard Linklater in 2006, starring Keanu Reeves, Robert Downey Jr., and Winona Ryder.
Many of Dick's stories center on the nature of reality and the illusion of personal identity and often become surreal fantasies, as the protagonists often discover that the world they think is reality is actually an illusion assembled by external powers, such as the suspended animation in Ubik.  This book is one of Dick's most acclaimed, and in 2005, Time magazine listed it among the "All-TIME 100 Greatest Novels" published since 1923.
Science fiction author Charles Platt wrote about Dick that, "All of his work starts with the basic assumption that there cannot be one, single, objective reality. Everything is a matter of perception. The ground is liable to shift under your feet. A protagonist may find himself living out another person's dream, or he may enter a drug-induced state that actually makes better sense than the real world, or he may cross into a different universe completely." We are thankful for the incredible imagination and thought-provoking works that cause us to think about the world in a different way.